PITOT STATIC & TEMPERATURE PROBES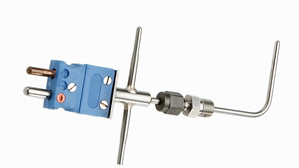 GENERAL INFORMATION
Description:
This versatile stainless steel Pitot-Static Probe is equipped with a built-in thermocouple for measuring total temperature as well as total and static pressures at the same point in a fluid stream. Such a dual capability permits immediate calculation of flow velocity, weight flow rate, density, viscosity, available energy and other related properties of the moving fluid.

Capabilities:
United Sensor Pressure / Temperature probes may be customized to meet industrial and research applications ranging from in-plant fluidic testing to subsonic flow measurements to engine performance analysis. Standard outside diameters are 1/8", 3/16" and 1/4" with other sizes available upon request.

Variations:
A wide selection of variations permits custom designing to meet exact specifications. These include special constructions for high operating temperatures and pressures; longer or shorter probe lengths; larger diameter tubing; thermocouple jacks; lead wires. Consult United Sensor for custom applications.

Straight and Custom Pitot Temperature Probes are also available.